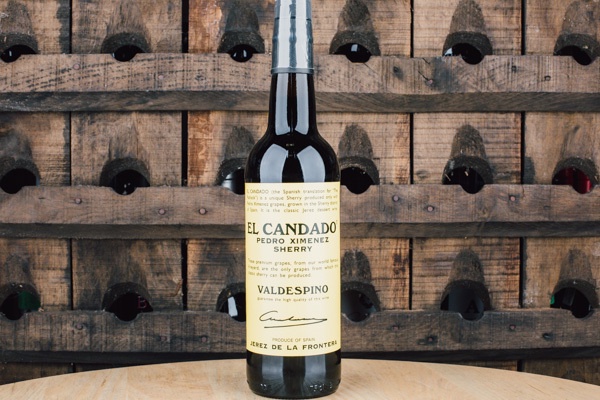 Valdespino El Candado Pedro Ximenez Sherry
---
A deep mahogany colour. Intense aromas of dried fruits, raisins, figs, and subtle notes of chocolate and coffee. Smooth and velvety on the palate, with great length and balance.  
Valdespino is among few family-owned bodegas in Jerez, and with a history of sherry production going back six centuries, it is also one of the oldest. Alfonso Valdespino was one of 24 knights who fought for the city of Jerez with King Alfonso X, against the Arabs in 1264. As a reward for his efforts he was given land in the Jerez region. Today Valdespino belongs to the Estevez family, and they own 750 hectares of their own vineyards in Jerez, rare in this region, which allows them close control over grape quality.
When the Pedro Ximénez grapes are harvested, they are left out in the sun to dry for at least two weeks. This concentrates the sugars through evaporation, turning them to raisins. A very sweet must is then obtained through pressing, which is fermented and then fortified to around 17%, using grape spirit of 96%. The wine is then aged in a Solera system made up of three 'criadera' and a solera, made from American oak casks, and fractionally blended. The wine is aged 100% oxidatively and has an average age of ten years. 
Vegan / Vegetarian
17%
37.5cl  
70cl